DKCH Symposions Blue Teddy (Teddy / Kåre):
(USCH Starbuck Torbay Pillow Talk X INTCH DKCH KLBCH Dynamic Flyer's Posh Teddy)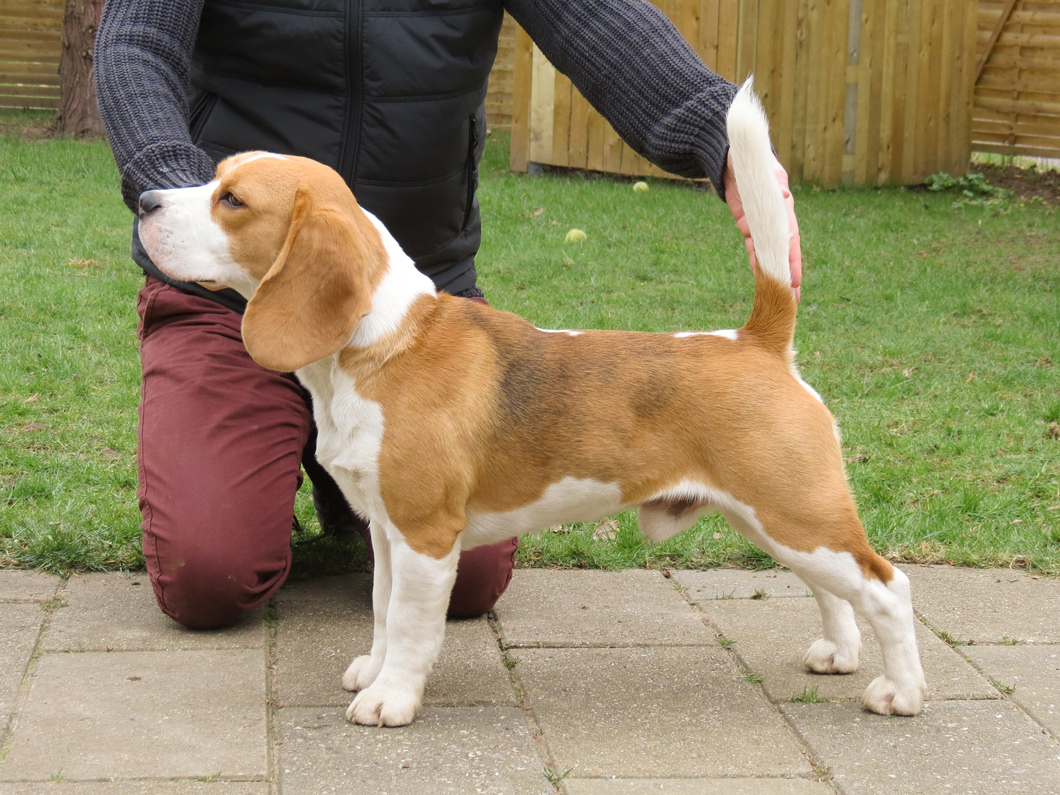 Symposions Blue Teddy
Danish Champion
BOB Baby-puppy on Very Special Show 2014

Best male 2, Juniorwinner + CAC, Årslev 30.05.2015

Best male 3, Juniorwinner + CAC, Årslev 31.05.2015

Classwinner, Very Special Show 2015

BOB + CAC + Group 3rd, Vejen CACIB, 10.06.2016

Best male 3, Vejen CACIB, 12.06.2016 

37,5 cm  /  14.7 inches 

D.o.B: 28.03.2014

 

MLS :Clear

IGS : Clear

NCCD : Clear

Factor-7 : Clear
Teddy, eller rettere Kåre som han kom til at hedde da han flyttede hjemmefra, er vores eget opdræt. Hans mor er vores Holly, og han er opkaldt efter sin far Svennie (Dynamic Flyer's Posh Teddy) som bor i Sverige.
Teddy bor ved en rigtig sød familie i Odder, som er så søde, at lade os "låne" ham af og til, til både udstilling og avl. Han er bror til vores Gypsy, og er en rigtig bulderbasse, som selv synes, at han er en vældig stor og sej hanhund. Han er en rigtig god dreng, med et hjerte af guld.
Stamtavle

INTCH DKCH KLBCH 

DKJCH KLBV11+12 RLD-N DKV12 DKKV12

LDSGTHÜ13 DECH(VDH) DECH(BCD) LDSGTHÜ14

Dynamic Flyer's Posh Teddy

( HD-B )

DKCH KLBCH INTCH NV-09 KBHV13 KLBVCH DEVECH KBHVV14

Dynamic Flyer's Silent Night Wind

( HD-A )

USCH DKCH DKVV12 Starbuck Torbay About Face

USCH Daragoj Matter Of Time

USCH MSK'S Cherokee Annie

Dynamic Flyer's Quiet Indian Summer

EUUV97 DKCH Gold Line's Tough Eric Cantona

Dynamic Flyer's Pleasent Cowgirl

DKCH Free Stride's Bright Eyes

DKCH Daragoj Harley Davidson

Daragoj Diamond Heart

Daragoj Golden Belle

Dynamic Flyer's Blue Bright Moon

Navans Toall The Girls Luvd

DKCH KLBCH KBHV98 Gold Line's Soft Baby Blue

USCH Starbuck Torbay Pillow Talk

( HD-A )

USCH Cherry Creek Checkmate

USCH Barrister's Sparks Fly at Bakerstreet

USCH Jabrwoki's Chanticleer

USCH Barrister's The Wright Tone

USCH Cherry Creek Classy Chassis

USCH Windkist A Walk in the Park

USCH Cherry Creek Magic Potion

USCH MSK'S Sweet Look

USCH Starbuck Torbay Legal Tender

USCH Swan Lakes Longhorn Kid

USCH CACH Daragoj Chelsea

USCH MSK'S Cherokee Annie

USCH TashwouldSumthingtoTalkAbout

USCH MSK'S Abigail the Quiet
---
---
---
 Hvalpe efter Teddy
1. kuld - Vienna Calling Daddy's Little Girl (Bonita)
5 skønne hvalpe hos Kennel Vienna Calling i Østrig. 4 drenge og 1 pige. Besøg Vienna Calling.